Welcome to our guide on Pizza Cheese.  This guide is meant to inspire and inform you about mozzarella (the most popular pizza cheese) and many other types of cheese that can be used on pizza.  Pizza enthusiasts are missing out on the incredible variety in the world today if they shun everything but mozzarella.
While mozzarella is the most popular choice when it comes to the best cheese for pizza, it is not the only choice.  Provolone, Burrata, Gouda, Gruyere, Brie, Blue Cheese, and more, are all excellent cheese choices for pizza. 
Our pizza cheese guide will introduce you to a myriad of options.  We've included pizza topping ideas for each one to help inspire you to get creative for your next pizza night.
MOZZARELLA ON PIZZA
---
A Bit About:
Most people agree that mozzarella wins the competition for best pizza cheese.  It melts, browns and blisters better than any other cheese…and this study from the Journal of Food Science even proves it.
Mozz is stretchier, less oily and more appealing than any other cheese, and it has the enviable distinction of being the most popular cheese in the United States. (Check out our article entitled "The Five Best Stretchy Cheeses for Pizza").
Mozzarella comes in fresh, high moisture varieties and low moisture varieties.  The photo above is a fresh high moisture version.  Fresh mozzarella is a semi-soft white cheese that is best consumed shortly after purchasing due to its high moisture content.  Low moisture mozzarella is semi-hard and has a longer shelf life.
On Pizza:
I love the flavor and texture of fresh mozzarella.  It is my go-to cheese for a simple Margherita pizza.  A few key pieces of advice for fresh mozzarella on pizza are:
slice it thinly
don't overdo the amount you put on
be sure to bake your pie at a high temperature (Check out our article on the Best Pizza Oven Temperature).
Fresh mozzarella is packed in water and will create a soggy pizza if too much is used.  For the best results, remove the fresh mozzarella from its wrapper and place it on a paper towel to dry a bit before using.  If you opt for low moisture mozzarella for your pizza, you can be a bit more generous with how much cheese you layer on.
Substitutes:
If you're itching to try something new instead of mozzarella, Provolone and Monterey Jack are excellent choices, but don't overlook Gruyere or Gouda – these too are excellent substitutes for mozzarella on pizza.
Other Ways to Serve it:
Don't forget, mozzarella can also be used in calzones, lasagne, and casseroles.
CHEDDAR ON PIZZA
---
A Bit About:
Cheddar is a hard, white or orange cheese and is the second most popular cheese in the United States (behind mozzarella).  It originated in England and is one of the older cheeses in the world dating to at least the 12th century.
On Pizza:
As ubiquitous and delicious as cheddar is, it does not make a great cheese by itself for pizza.  In combination with mozzarella or provolone, however, it is a sure winner.  Cheddar doesn't melt well due to its low-fat content, and cooking it at high temperatures will cause it to get rubbery and toughen, and it will end up secreting lots of oil.
If your heart is set on cheddar for your next pizza pie, try baking it a lower temperature and mixing it in a ratio of 4:1 mozzarella to cheddar.
The mozzarella and cheddar combination works exceptionally well with taco type pizza toppings.
Try cooking up some taco-infused ground beef or sausage; layer it on a pizza crust after some tomato sauce.  Then add the cheese.  Once baked, each person can load up their slice with a variety of popular taco toppings…guacamole, fresh tomatoes, sour cream, green onions – you name it!  It's a taco on a pizza.
Substitutes:
A good substitute for cheddar on pizza is Gruyere.
Other Ways to Serve it:
Cheddar is great in many dishes – frittatas, mashed potatoes and of course, apple pie!
HAVARTI ON PIZZA
---
A Bit About:
Havarti, sometimes called Cream Havarti, is a semi-soft, buttery Danish cheese similar to Swiss cheese.  Its signature holes or "eyes" distributed throughout the inside are the result of bubbles of carbon dioxide gas which is produced by various species of bacteria introduced into the cheese.  There are several versions of Havarti, and the photo above is a common version that has a crumbly but creamy texture.
Havarti's buttery aroma and sweet taste sharpen when left to age three months or longer. It eventually takes on an almost hazelnut like flavor.  Aged Havarti is similar in some ways to a good quality parmesan when it has been aged for 12 months or longer.
On Pizza:
On pizza, try a simple Havarti and mushroom combination of flavors.
If you're hankering for a three cheese pizza, Havarti, Monterey Jack and Gouda make a flavourful blend.
Havarti and shrimp go well together.
One of my favorite ways to use Havarti on pizza is with bitter greens – the sweetness of the cheese mixed with the bitter greens is delectable.  I usually slow cook some onions first and sauté some of the greens in with the onions when they are almost done.  This mixture is piled on top of the crust and blanketed in Havarti.  Once baked, I like to add some fresh greens on top for a burst of crisp texture and flavor.
Substitutes:
If you need a good substitute for Havarti, try Colby, Gouda or Saint Paulin.
Other Ways to Serve it:
Havarti is also great in crepes, nachos and fruit brochettes (kebabs/skewers).
GOUDA ON PIZZA
---
A Bit About:
Gouda is one of the oldest recorded cheeses in the world, dating back to 1184.  It is a mild, semi-hard to hard, yellow cheese made in the Netherlands and is one of the most popular cheeses in the world today.  The younger Gouda is the milder the flavor.  Mature Gouda has a sweet tang to it which becomes almost butterscotch like if aged for two years or longer.  You'll know it is well aged when you see and taste the crystalline texture inside which only happens when a cheese is aged for 12 months or longer.
On Pizza:
One of my favorite varieties is smoked Gouda.  I love to pair smoked Gouda with barbecue chicken for an amazing pizza flavor combination.
Another favorite is smoked sausage, spinach and Gouda cheese on a pizza.
Bacon, olives, and gouda also make an excellent trio of flavors.
If you love Buffalo chicken, try Buffalo shrimp with Gouda on your next pizza.
Substitutes:
Some great substitutes for Gouda include Havarti, Provolone, and even Oka.
Other Ways to Serve it:
If you happen to have any extra Gouda on hand after you've made a pizza, enjoy it in casseroles and quiches.
Extra Tidbit:
Can Gouda cure cancer?  According to scientists and doctors, Gouda contains a form of Vitamin K called Vitamin K2 that is antiangiogenic (this big word means something that stops tumors from growing their own blood vessels) and kills cancer cells directly.  See: Secret Weapon to Fight Cancer | The Dr. Oz Show
MONTEREY JACK ON PIZZA
---
A Bit About:
Monterey Jack is an American semi-hard cheese.  In the 18th century, Franciscan Monks from Monterey California created this cheese which was sold by California businessman David Jack.  At first, the cheese was called "Jack's cheese" but eventually the name changed to Monterey Jack.  Varieties of "Jack" cheese are Dry Jack, an aged variety used much like parmesan, Pepper Jack, which is infused with chili peppers and herbs, and Colby Jack or Co-Jack, a marbled mixture of Colby and Monterey Jack.
On Pizza:
Any of the Jack varieties make excellent choices for Mexican or Spanish inspired pizzas.
Monterey Jack has a mild flavor and melts particularly well.
Dry Jack has a sharper, more robust flavor and pairs well with Mozzarella.
Pepper Jack gives the perfect amount of heat for those looking to make a spicy pizza pie.
Our favorite pizza featuring Monterey Jack is our Taco Pizza (also mentioned above with Cheddar).  Spread on the tomato sauce, some jack cheese, crumbled taco-infused ground beef, onions, and tomatoes.  After it's baked, add the fresh goods – green onions, sour cream, and more tomatoes.  Simply delicious.
Substitutes:
If you need to substitute Monterey Jack for something else, try Brick, Swiss, Farmers or mild cheddar.
Other Ways to Serve it:
Monterey Jack is excellent in fajitas, tacos, and burgers.
Extra Tidbit:
Monterey Jack has a lower content of tyramine (which is thought to cause headaches) – it is often one of the few kinds of cheese recommended safe to eat for migraine sufferers.
BURRATA ON PIZZA
---
A Bit About:
Burrata is a semi-soft Italian cheese, similar in many ways to mozzarella.  On the outside, it looks very similar to fresh mozzarella…in fact, the outer layer is fresh mozzarella.  The real treat is on the inside…when you split it open, a delectable mixture of cream and curd slowly oozes out to create a rich tasting, smooth and creamy premium cheese eating experience.
Burrata is best eaten soon after you've purchased it.  It is said to be past its prime after just 48 hours.  It may be hard to find in a regular grocery store, but most good cheese shops should carry it.
On Pizza:
An excellent pizza combo would be burrata with arugula, prosciutto, fresh tomatoes, olive oil, cracked pepper and fresh basil.
Burrata, like mozzarella, can be baked at high temperatures, but is equally as good, if not better, when eaten fresh.
It's also best to add burrata near the end of the baking time for your pizza so that it heats through but doesn't get too watery.
Try grilling your pizza crust plain with some olive oil and serving up the rest of the ingredients fresh – including the star of the show – burrata.
Place a pouch of burrata on a plate with a freshly grilled pizza crust, tear it open and served with sliced peaches and a drizzle of balsamic vinegar.
Be warned, burrata is on the expensive side, but completely worth it as a special treat or when company comes for dinner or appetizers.
Substitutes:
Burrata is the gourmet version of mozzarella so if you can't find burrata, fresh mozzarella is the next best thing.
Other Ways to Serve it:
Burrata is so decadent, it should be thoroughly enjoyed no matter what you're eating it with!  Grilled bread, fresh tomatoes, basil, and burrata makes for the most delicious summer meal. A simple hamburger or salad can be raised to superstar status by serving it alongside burrata.  Fruit and burrata are also an amazing combination – aim to serve whatever is in season for the most flavorful experience.
PROVOLONE ON PIZZA
---
A Bit About:
Provolone is a favorite of mine when it comes to making pizza.  It has one of the best melting abilities of any cheese.  It is a semi-hard cheese and can come in mild or sweet varieties or aged and sharp.  Similar to mozzarella, it's a pulled curd cheese which means that while it's being made, the warm cheese curds are pulled into elastic bands of cheese, then formed into wheels, brined in saltwater and then aged.  Often provolone is shaped into a sausage or pear shape and aged for six months to two years.
On Pizza:
Using provolone on pizza is a whole new level of pizza addiction.
Try to find some well-aged provolone for the best experience.
As far as what to pair it with, try my favorite – a Philly cheesesteak pizza.  The recipe is so simple – garlic white sauce for the base, some leftover rib eye steak, sautéed onions, peppers and mushrooms, and lastly, some deliciously smooth provolone.
Craving something fruity?  Try a provolone and blueberry pizza with some caramelized onions and cilantro (cilantro complements blueberries especially well).
Substitutes:
If you don't have any provolone, you can substitute Fontina, Scamorza or mozzarella.
Other Ways to Serve it:
Provolone is an excellent melting cheese so it can be used in a variety of dishes.  Try it in hoagies, casseroles, pasta or, my favorite, Panini.  My perfect lunch is sourdough bread topped with mayonnaise, provolone, fresh tomato slices, basil, salt, pepper and balsamic vinegar, toasted in our Panini grill.
GRUYERE ON PIZZA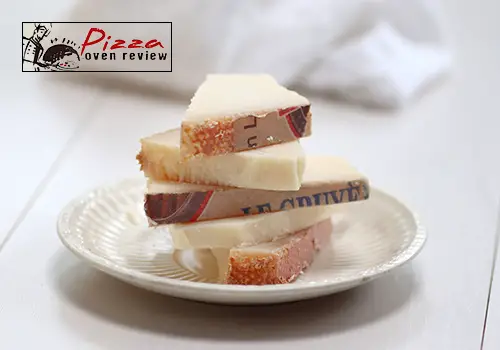 ---
A Bit About:
Gruyere is a hard yellow cheese born in Switzerland and has the distinct honor of winning best cheese in the world four times at the World Cheese Awards.  Often described as creamy, nutty, sweet, and somewhat salty, Gruyere is typically aged five months to a year.  The longer it ages, the more robust a flavor it develops.
On Pizza:
Gruyere is an excellent melting cheese and a popular choice in a variety of dishes from quiche to fondue, to you guessed it…pizza.
Gruyere pairs well with many different pizza toppings.
Try a shitake mushroom pie with some garlic and parsley.
Barbecue chicken, Gruyere, red onion, and cilantro is pictured here – this is absolutely delicious.
The classic ham and pineapple also make a delicious duo when combined with Gruyere.
A simple onion, prosciutto, and Gruyere pizza also make a winning combination of flavors.
Williams Sonoma has a classic winter pizza pie featuring Gruyere found here.
Substitutes:
Emmental, Swiss and Jarlsberg all make excellent substitutions.
Other Ways to Serve it:
If you have any extra after you're done making your pizza, Gruyere can be used in salads, pasta and one of my favorites, French onion soup.
PARMIGIANO-REGGIANO ON PIZZA
---
A Bit About:
Parmigiano-Reggiano is the King of all Cheeses. It is an Italian hard cheese which has the honorable distinction of being the most expensive cheese in the world.  Sometimes it seems as though parm is served on, and in, almost everything savory.  It is popular on its own for snacking, melted into soup and pasta dishes, it's an excellent topping for salads, casseroles, and mashed potatoes…the list is endless.
On Pizza:
But what about pizza…is Parmigiano-Reggiano a great cheese for pizza?  The answer is yes…and no!
Since Parmigiano-Reggiano is dry, it doesn't melt well and would make a poor substitute for the amazing stretchy, gooey-ness of mozzarella.  That being said, parm and mozzarella together make for a winning cheese team on pretty much any pie.
Parm makes for a delicious, savory topping after a pizza is cooked.  Its robust flavor is an excellent addition to an otherwise bland pie.
Stay away from fake Parmigiano-Reggiano…this imposter, often called parmesan, is an inferior substitute.
Don't be tempted by the pre-grated stuff available in canisters either.  It is loaded with preservatives and chemicals that aren't healthy.
My favorite way to use Parmigiano-Reggiano on pizza is with a pesto base…pile on some extra spinach (for some extra healthy brownie points), mozzarella, dollops of ricotta, grated parm, and sun-dried tomatoes.  Once baked, sprinkle an extra helping of parm on your pizza for a delectable pie.
Parm pairs well with savory fruit pizzas as well; try it with figs and prosciutto or blueberries and spinach.
Another simple option would be tomato and basil with Parmigiano-Reggiano and mozzarella…a tasty variation of the Margherita.
Substitutes:
If you need a substitute for parm, Grana Padano, Asiago and Pecorino-Romano all make great choices.
Other Ways to Serve it:
Parm is a sure winner on the classic, spaghetti, and meatballs.  It's also fantastic on pretty much any pasta or salad you can think of.
BRIE ON PIZZA
---
A Bit About:
Brie on pizza? Oh yes!  There is something very special about brie on pizza. If Parmigiano-Reggiano is considered the King of all Cheeses, Brie would be the queen. If you've never tried it, I would recommend you make it one of the first on your list of new things to try.  Brie is a soft cow's milk cheese originating from France.  It comes wrapped in an edible rind that lends it an earthy flavor and slightly chewy texture.
On Pizza:
The first combination you should try is a four cheese pizza by mixing brie with mozzarella, Parmigiano-Reggiano, and ricotta.  This creates, hands down, the cheesiest, gooiest, most delectable cheese pizza ever.
Next, it's a given that brie works super well with fruit as an appetizer…so replicate it on a pizza.  The best is caramelized onions, figs and brie.  My mouth is watering just thinking about this one!
Instead of figs, try pear with a topping of fresh arugula after baking.
If you're up for something completely different, spread some spicy red pepper jelly on a pizza crust, caramelized onions, hot sausage crumbles, and brie.  Yowza!
Substitutes:
Best substitutes for Brie are Camembert and Reblochon.
Other Ways to Serve it:
If you have extra Brie leftover, use it in omelets or as a snack with crackers and blueberry agrodolce (a sour/sweet sauce that is delicious!).
RICOTTA ON PIZZA
---
A Bit About:
If you love cream cheese or cottage cheese, ricotta will be your new best friend.  Usually found in tubs, ricotta is a creamy, mild, fresh whey cheese and has a slightly sweet flavor.   Historically, Ricotta cheese was really just a by-product of the Mozzarella cheese making process long ago amongst Italian cheese makers.  However, today it is a sought-after staple cheese for many gourmet dishes worldwide.  It's grainy in texture, but smoother than cottage cheese.
On Pizza:
Adding ricotta to pizza will create a creamier, gooier pie.
It mixes well with mozzarella and parm for a delicious pizza treat.
Try ricotta, mozzarella, and parm with spinach and mushrooms.  Simply amazing!
Ricotta and feta also blend nicely together – try these two kinds of cheese with a pesto base and sun-dried tomatoes on your next pizza.
Substitutes:
Substitutes for ricotta would include mascarpone, mozzarella, and goat cheese, although goat cheese, while similar in texture, would bring in a very different flavor.
Other Ways to Serve it:
Ricotta can be used in many other dishes so don't worry if you have leftovers…lasagne, pasta, even cheesecake are excellent places to add ricotta cheese.
GOAT CHEESE ON PIZZA
---
A Bit About:
Goat cheese or Chèvre is cheese made from goat's milk.  It is most often sold as a soft cheese, although it can be dried to make a hard, mature cheese as well.  Goat cheese has its own unique flavor that most describe as tangy.  It is a healthy cheese providing good fats, fewer calories and easier digestibility than most cheeses.
It may come as a surprise to some to learn that goat cheese originated in France where it was referred to as Chèvre by farmers using fresh goat milk to create the cheese.  Much like "Champagne" (the French sparkling wine that is directly connected to a geographic region), Chèvre is a commodity that also maintains a strong connection to its geographic origins within France. Factors like climate and geology affect the quality of many agricultural products, and goat cheese is no exception.  Even so, there are many variations of this cheese (which used to be "peasant's fare" but is no longer!) in many countries like Norway, Italy, The Netherlands, England and even Canada.
On Pizza:
Goat cheese on pizza creates a healthy choice when topped with grilled vegetables, like peppers, onions, and mushrooms.
Another favorite of mine is bacon, caramelized apples, and goat cheese…oh my, this one is so good.
Asparagus and goat cheese is also an excellent combination and one worth trying in the spring when asparagus is plentiful at most markets.
Substitutes:
A good substitute for goat cheese would be ricotta, cream cheese or mascarpone.
Other Ways to Serve it:
Leftover goat cheese can be used in so many different ways – try it in a quiche or stuffed chicken; it's also excellent on crackers with preserves as well as pretty much any pasta dish you can think of.
FONTINA ON PIZZA
---
A Bit About:
Fontina is a delectable semi-soft creamy cheese made in Italy from cow's milk. Covered in an orange-brown rind, young Fontina has a nutty, buttery, mild flavor which progresses to more pungent and sharp as it ages.
On Pizza:
Fontina is an excellent melting cheese which makes it a great addition to any pizza.
Favorite toppings that pair well with Fontina include mushrooms and caramelized onions.
Pancetta and rosemary are a scrumptious duo to include with Fontina as well.
Because of its mild flavor, Fontina can be paired with stronger flavored toppings like hot sausage, bacon, and spinach.
Substitutes:
If you need a substitute for Fontina, try Emmental, Gruyere, Gouda or Provolone.
Other Ways to Serve it:
Fontina is excellent in fondue, polenta, calzones, and quiche.  And if you're looking to kick up your mac and cheese to superstar status, give Fontina a try.
FETA ON PIZZA
---
A Bit About:
Feta is a brined white cheese made in Greece known for its tangy, salty flavor.  It's one of the earliest recorded cheeses with possible references to it dating back to the 8th century BC.  Feta is one of the healthiest cheeses as well…it's loaded with probiotics and contains good sources of vitamins A and K, iron, magnesium and many others nutrients.
On Pizza:
My most favorite way of using feta on pizza would be with fresh tomatoes.
Since tomatoes contain a lot of juice, let them drain before putting them on your pizza.  You can place them on paper towels which will absorb the liquid or put them in a colander and let them drain into your sink.
In addition to the tomatoes, olives and basil are also excellent with feta on this pizza.
Feta would also be delicious with a grilled vegetable pizza.
Since it is on the saltier side, be careful about pairing up feta with a large amount of salty meat.  It might be too much sodium and overpower the pizza.
Substitutes:
A good substitute for feta would be ricotta – it is less salty but has a similar texture.  Goat cheese would do as well but it does have a stronger flavor.
Other Ways to Serve it:
Feta is used in many dishes other than pizza.  Our family consumes copious amounts of feta in our daily salads.  Spanikopita is a traditional Greek pastry that uses a lot of feta…this is simply an amazing treat and if you've never tried it, make it a priority soon!
BLUE CHEESE ON PIZZA
---
A Bit About:
Blue cheese on pizza is more popular than you might think.  What exactly is blue cheese?  It's a classification of cheeses that have had mold cultures added to them…yes, you read correctly…mold.  But this mold is a good mold called Penicillium. This results in a distinct cheese that smells, tastes and looks different from most other cheeses.  Visually speaking, blue cheese is veined or spotted from the mold.  It's characteristic robust salty flavor pairs up with fruit very well.
On Pizza:
Try a combination of blue cheese and pears for a completely different pizza flavor.
Individually, figs, pineapple, and apples all work exceptionally well with blue cheese on pizza.
For a completely savory pizza, try blue cheese with mushrooms.
A favorite of ours is blue cheese with tomatoes and black olives.  The acidity of the tomatoes mellows out the sharp flavor of the blue cheese for an excellent pizza pie combination.
For a twist on a classic, try ham and pineapple with blue cheese.
Shrimp or lobster with fig and blue cheese is also ah-mazing!
Substitutes:
There are many varieties of blue cheese: Gorgonzola, Roquefort, and Stilton are just a few names you'll see around.
Other Ways to Serve it:
If you have extra leftover after you've made the most decadent pizza, you'll find blue cheese can be used in pasta and salads.  Two of our favorite ways to eat blue cheese are in salad dressing and quesadillas.  It's also delicious with beef, chicken, and fish – especially salmon.
Final Note
Be daring!  Experiment with different varieties of cheese.  Make up your own new favorite flavor combinations.  And perhaps you'll find one that "brie-longs" to you…which would be "gouda"!
*Source: Wikipedia*
---
Pizza Cheese
was last modified:
April 28th, 2020
by